Broughty Ferry – Wee Trip Awaa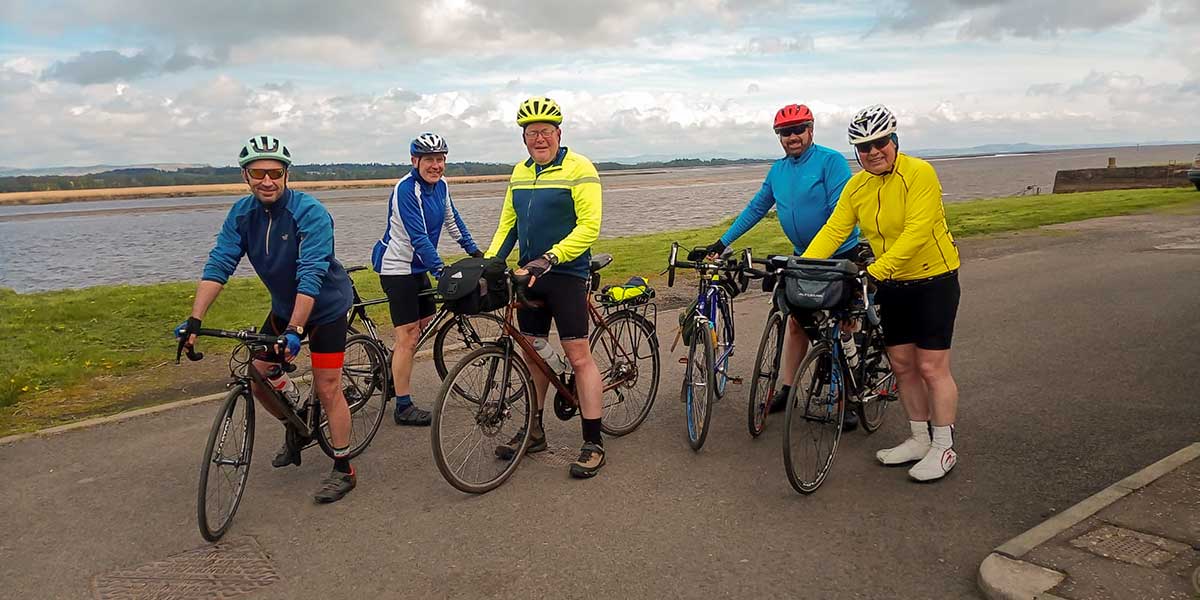 In May, a group of eight members joined a three day club weekend away to Dundee. One member stayed with family in Broughty Ferry while the other seven all stayed in the Best Western Hotel, Woodlands, Broughty Ferry. The hotel was an excellent choice, providing great rooms including breakfast at a very reasonable price. The Ballroom wasn't in use at the time so they were happy to allow us to leave the bikes there each night, and it was good to see that the hotel was ensuring that Covid procedures were being rigidly adhered to, especially during breakfast.
Day 1
A 72 mile ride from Airyhall Library to Broughty Ferry, mainly following Cycle Route 1, which involved quiet roads down to Arbroath and the shared coastal path from there down to Broughty Ferry. 
Day 2
A 82 mile ride involving cycling over the Tay Bridge (there's a lift!!) and an anticlockwise circular route around Fife which is a beautiful area, stunning countryside and views of the Tay. Don't believe anyone who says that Fife is flat! Lunch was at a good outdoor venue in sunny Falkland and coffee was at a very busy, and also sunny, St Andrews.
Day 3
Another 72 mile ride back to Aberdeen on Cycle Route 1.
For the evening meals we went in to Broughty Ferry and as it was the first weekend coming out of lock down there was quite a buzz about the place. Once again, Covid rules were being enforced and we had two very pleasant evenings there, eating al fresco on the riverside on the second evening.
The weather was great all weekend, not a drop of rain, and it was so good to be cycling on different roads and seeing different scenery. 
Special thanks to those who helped with the planning, organising and ride leading, you made it a great weekend for us all.